The Dress Shop on King Street By Ashley Clark
Genre: Contemporary/Historical Fiction
Publisher: Bethany House
Publication Year: 2020
Purchase and Synopsis
5 Stars
I don't often find a book that I can rave over. Everyone's tastes are different and it's not often that I find that book that just makes my heart sing and I loved it so much. 
I haven't read a more thoughtful book in a long time. The way that the themes, messages, and almost Easter egg-like word, phrases, and stories came together… it was perfection. 
This concept of "life between the seams". The beauty of our lives in the areas that no one sees. They are parts of us that we keep hidden. Out of necessity or out of choice, but they are parts that are hidden. They create the structure and the strength that holds us together.
Harper, Peter, and Millie's stories were so dear to my heart. I felt their triumphs and their pain. It was such a vivid way of storytelling and I know that one of the reasons I loved it so much is because the characters are focused around things that I adore. Peter reclaims and finds treasures in antiques and history, Harper loves to create clothes based on and from vintage clothing, and Millie's dream of owning a dress shop and designing clothes coupled with the importance of family and her dedication to them made for a sure way for me to relate with every single one of these characters. 
The importance of our history and how it ties into our destiny is a main theme in this book and one that I found such delight in. Our current world seems to have a hate relationship with history and I feel that is so wrong. This book does delicate and honoring justice to the history of these characters and it was done in such a charming, heartwarming way.
I think this is a book you will enjoy if you are a historical or contemporary fan. It has enough of each to keep both genre's interested and honestly, I can't praise it enough. I've never read a more thoughtful book.
"You can't ignore the things that keep your soul alive, because I believe God pugs that sort of stuff in us for a reason. That He speaks to us through it. God is faithful, and when He calls you to something, He will also give you the means, even if it doesn't look as expected." ~Peter, from The Dress Shop on King Street
"The problem is something about your story hasn't been told yet. The something that connects the two halves."
"Jubilee doesn't come all the time." Harper whispered the words, as they returned to her like the tide. "But when it does, get your nets good and ready." ~Harper, from The Dress Shop on King Street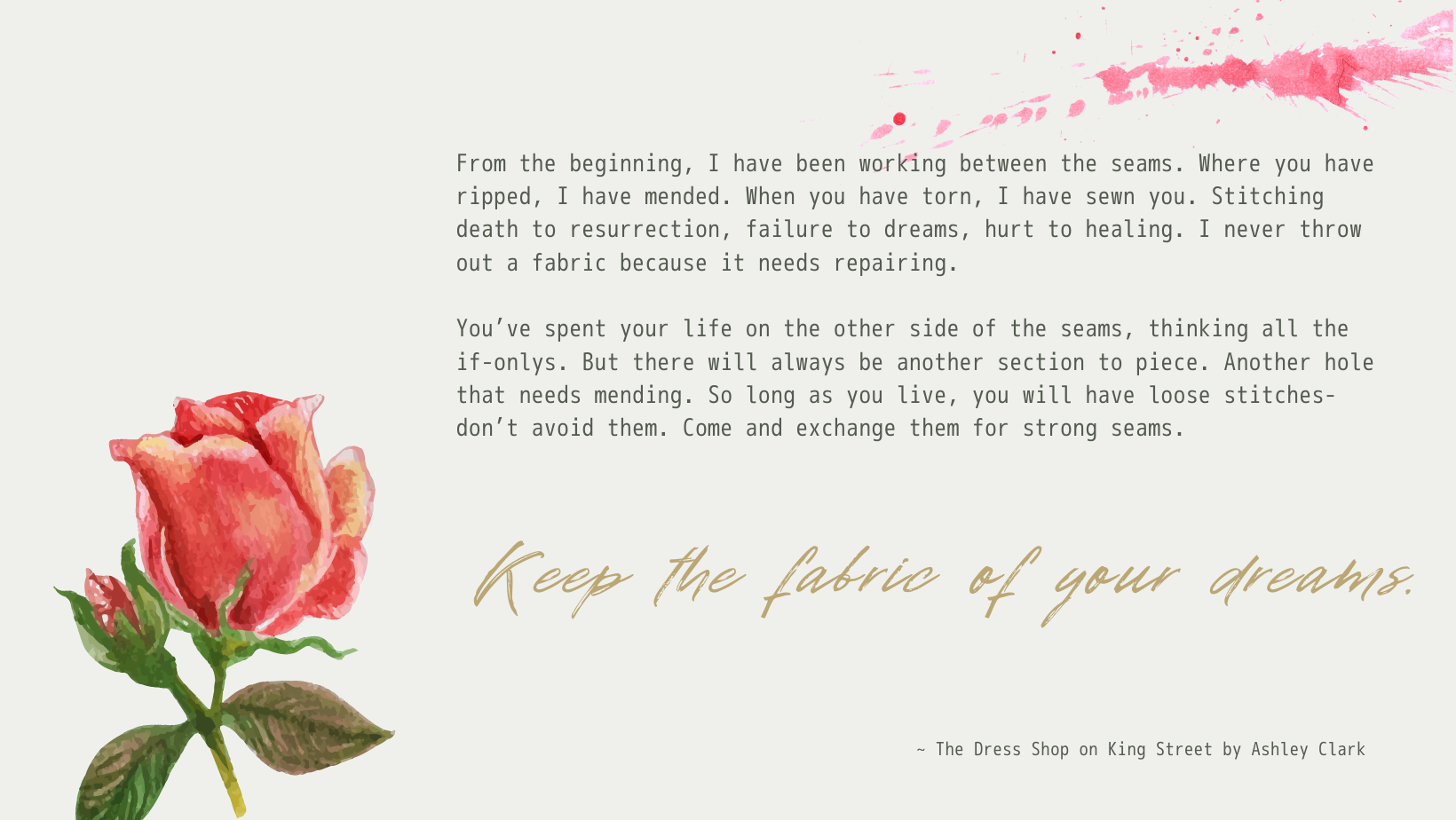 This book was given to me free of charge in exchange for my honest review. The thoughts and opinions expressed in this review are my own and in no way influenced by the publisher.